Four octaves midrange driver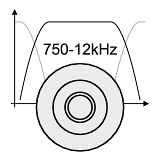 The heart of ROWEN is an exquisite mid-chassis with a frequency range of 4 full octaves from 750 to 12000 hertz, no crossover distortion and with optimum uniformity. The ideal point source!
ROWEN Full-Bipol loudspeakers

Conventional front-mounted bass reflex speaker

The ROWEN 4-octave midrange covers the entire for the localization and timbre important midrange between 1-10kHz. This represents the ideal point source.

With traditional speakers (2- or 3-way) the transition between midrange and tweeter is at about 4kHz, the most critical frequency range. This affects the detection capability significantly.